Got 15 minutes to improve your outlook on life? Of course you do. Think a simple walk in your local park will make a difference? More and more studies prove that it certainly will.
May is Mental Health Awareness Month. With the arrival of warmer weather, greener grass and spring flowers, it's the perfect time to let nature help you shake off the last of those winter blues. While many of us know about the physical benefits of recreational activities, there are important mental health benefits as well, including controlling stress and anxiety.
One in 5 individuals suffers from a mental health condition within their lifetime. It's highly likely you know of or know someone who has been affected—even if they haven't said anything. According to 2017 data from the National Institute of Mental Health (NIMH), more than 46 million people in the U.S. live with mental health illnesses, and mental health concerns increase during the fall and winter holidays, as part of seasonal affective disorder (SAD).
Parks and recreation are vital to mental health and well-being. According to a National Park and Recreation Association's Park Pulse survey, 93 percent of U.S. adults say that activities offered by their local Park Districts are beneficial to their mental health. Read on to discover ways that you can benefit from all your Park District has to offer.
So… 15 minutes. Really?
Yes. If you can engage in a recreational activity for even that short length of time, the science is on your side. After walking or jogging, playing a game, or working out for even just 15 minutes people reported better mental health results overall—like just being calmer So, if "I just can't commit myself to hours of__________ " (fill in the blank) is your go-to reason for not getting started, 15 minutes might just be the tipping point that gets you moving.
Does indoors work better for you? Do it. Are you yearning for some fresh air? Step outside. Your Park District has more than 20 beautiful parks, green spaces, and beaches with over 15 miles of walking paths where you can go and relax for a few minutes each day. It's easy to find one near you.
A 15-minute stroll through a park is all it takes to quiet your mind, with the increase in oxygen and blood flow through the brain resulting in better concentration, better reasoning, and a general feeling of well-being. A walk in the park has always meant something was easy. Now we know it can also make things easier.
Stress: How to tame the beast.
Every day, we're bombarded with more information than our brains can process. We're overwhelmed.
Adrenaline and other hormones that you produce in response can help keep you going, but only for a short time. At the Park District, we have lots of things you can do on a regular basis to maintain your balance. We'll get into details later, but here are just 5 activities that studies show will reduce stress:
Walking. Worldwide, this is likely the number one thing people do to relieve tension.
Running. Children do it naturally.
Yoga. Practicing breath control calms the mind.
Team Sports. The benefits of physical activity are well known. The benefits of working together, whether it's on a youth soccer team, an adult softball team, or with a pickleball partner, have now been proven to be just as important to your mental health.
Exercise. A regular routine can keep you physically fit. It also helps you realize that you're in control.
All walks (or runs) are not exactly the same.
There is an important difference in where you exercise. Not surprisingly, being surrounded by nature—walking and jogging the trails around Heller Nature Center or The Preserve of Highland Park for instance—proved to have substantially better results than walking or running around town on concrete streets surrounded by buildings. Being in a park, a green space, or a forest was reported as having a much greater effect on someone's well-being regardless of whether they were strolling, jogging, or doing part of their exercise routine. Walking or running on the treadmill at the Rec Center Fitness Club and looking out at the beautiful vistas of the Preserve can give you the same results.
Yoga: 5,000 years of keeping people healthy.
It's hard to argue about something that's been practiced and proven for thousands of years in Eastern cultures, and for hundreds of years here in the West. Your Park District offers a wide variety of yoga classes at the Rec Center Fitness Club and outdoors at the beautiful Rosewood Beach Interpretive Center. Our experts know just how to help you improve your self-awareness and refocus your energy, so stress disappears. Here are 4 calming meditation techniques recommended by yoga instructor Lisa Hodges:
Progressive muscle relaxation: tense each muscle for a minimum of 5 seconds, and then release. Start either at the top or bottom of the body and work your way up/down.
Mantra meditation: repeat a calming word, phrase, or sentence. Examples are: "My life is love", "I am calm and relaxed", and "Ommmm".
Mindful meditation: this uses the technique of focusing on the breath which gives the mind free rein to discover that it is okay to have emotions without doing anything about them.
Guided meditation: there are meditation classes and apps that are specifically designed to help calm the mind. Lie down or relax in a comfortable chair, listen, focus, and let the meditation do the rest.
Give those a try. Then give us a call and join a class.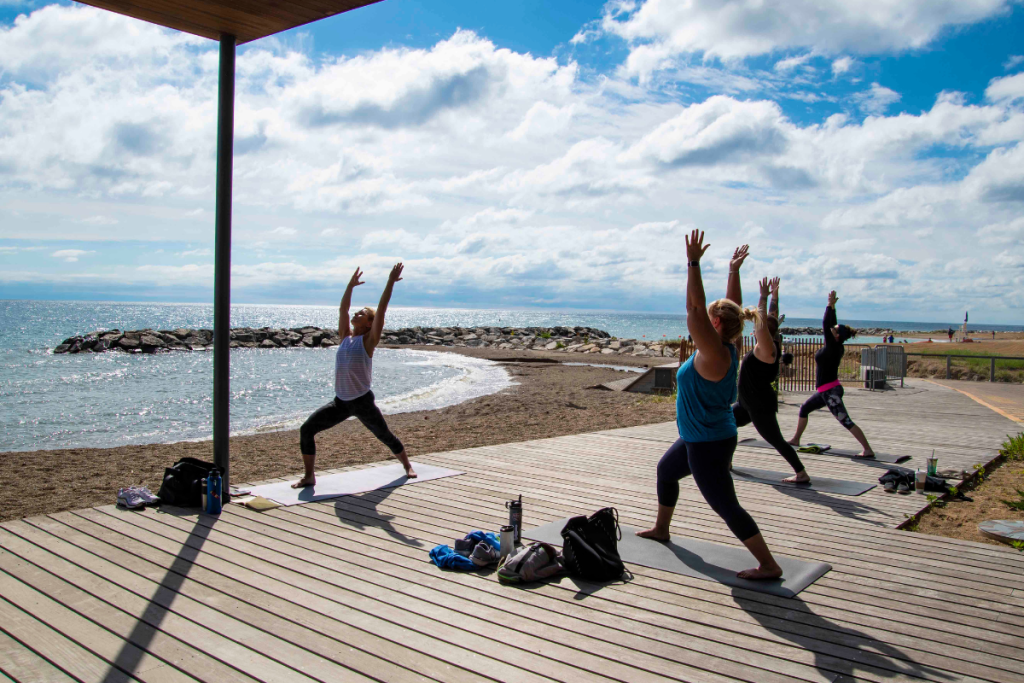 Sports for all ages.
According to the National Youth Sports Strategy, published by the U.S. Department of Health and Human Services, the benefits of engaging in regular physical activity are clear: improved bone health, weight status, cardiorespiratory and muscular fitness, cardiometabolic health, cognitive function, and a reduced risk of depression.
They go on: Playing sports can provide additional benefits, including developing competence, confidence, and self-esteem; reducing the risk of suicide, suicidal thoughts and tendencies; and improving life skills, such as goal setting, time management, and work ethic. Sports participation also provides youth with the opportunity to develop social and interpersonal skills, such as teamwork, leadership, and relationship building, and enables youth to benefit from the communal aspect of team sports.
That's a lot to take in, especially if you're just looking for a pick-up basketball game. Lucky for you, year-round the Park District has sports teams, leagues, and instruction for almost every game imaginable. Here are 3 recreational sports that you can play at any age, and any skill level:
Golf. The Highland Park Golf Learning Center is the perfect place to learn, improve your golf skills, practice your game, and have fun with a club! There's a driving range with both grass tees and mats, a separate short game practice area, a putting green, and a special area to practice blasting out of those nasty sand traps. Golfers can enjoy the unique British Heathland design of our Sunset Valley Golf Club, which was recently renovated to reflect the character and aesthetic appeal of the golf course's original 1920s-era architecture. And kids of all ages can enjoy 18-holes of challenging fun every day of the season at River's Edge Mini Golf Course.
Tennis is taught and played throughout the Park District, indoors and outdoors, on hard courts and clay. The nationally recognized Deer Creek Racquet Club hosts tennis and pickleball leagues, lessons for all ages, and summer tennis camps. Beginners and experienced players are all welcome. We also have outdoor tennis courts, pickleball courts, and pickleball/tennis combination courts located in six parks. You'll find those Roland Garros style clay tennis courts are at Sunset Woods Park.
Ice Skating can be enjoyed year-round at Centennial Ice Arena where we are proud of our reputation as a premier regional teaching center. We offer hockey, and freestyle lessons following the Learn to Skate USA® program for all skill levels. We are also a member of U.S. Figure Skating. Recreational outdoor ice skating is open to all in the winter months at Sunset Woods Park.
More great information about the benefits of sports and recreational activity is published in the Physical Activity Guidelines for Americans. There are some excellent tips in this fun 2-minute video, Move Your Way, and you can use this Move Your Way Activity Planner to help you get started on your journey.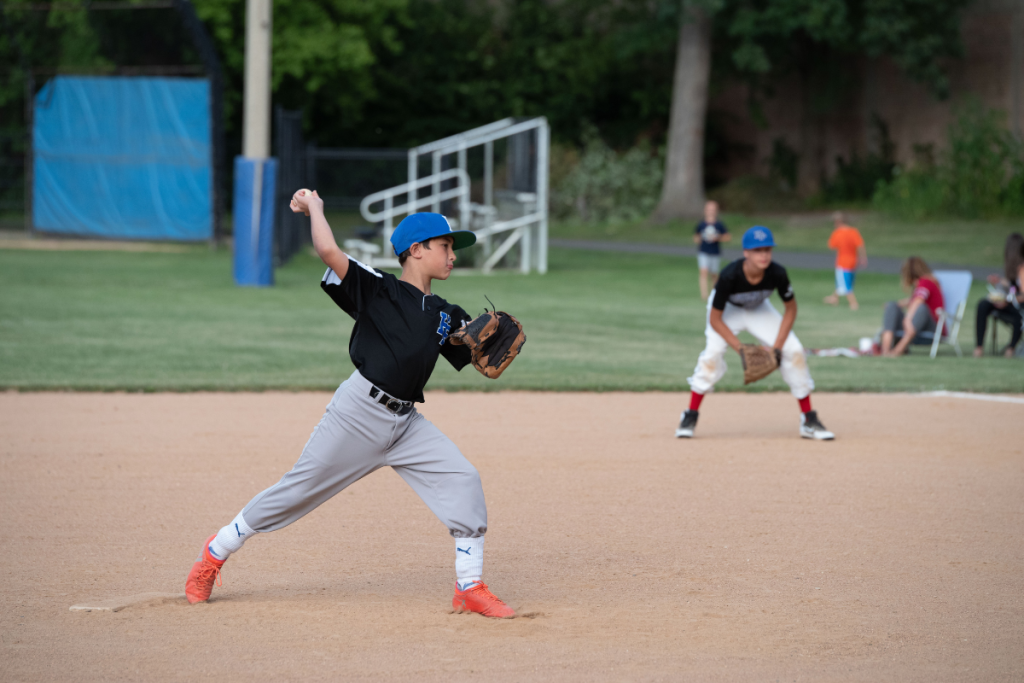 Picking one sport? Pick Pickleball!
Here's something you might not know about the fastest-growing sport in the country: Pickleball has been an official sport in the Senior Olympics since 2012!
It's a team sport, but unlike most others where you show up with teammates (or even tennis where you meet your playing partner at the court), Pickleball is much more social—just show up, make new friends, and start a game! Here's what the science says:
It's good for your cardiovascular health, which helps boost brain health.
It lowers your blood pressure and strengthens cognitive functions.
It helps your short-term memory, physical and mental balance, and overall motor skills.
It makes your body produce mood-enhancing chemicals. No wonder you feel better!
This year, the Park District is installing another 10 Pickleball Courts, at Danny Cunniff Park, just to try and keep up with the demand for this popular sport. Get yourself a racquet and get moving!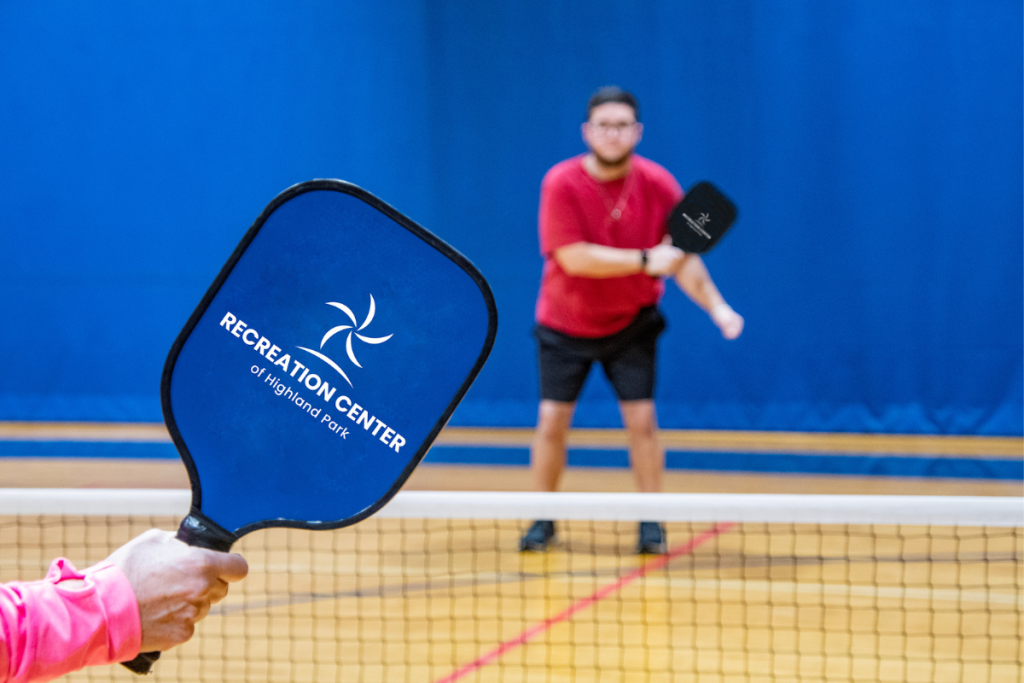 Where you are active is important. So is when.
In addition to the numerous studies and articles supporting the importance of staying active, either indoors or out, there is also recent and significant research about the differences in health benefits that you gain from exercising in the morning and the afternoon. Of course, maintaining any regular exercise routine is better than not working out at all, regardless of when you do it. Now there is increasing evidence that exercising in the morning burns more fat, while exercising in the afternoon can lead to a longer life overall. Specifically, people who exercised between 11:00am and 5:00pm were less likely to die prematurely than those who concentrated their efforts before 11 or after 5. So, if you want to add to the mental health benefits being in parks and green spaces can bring, you can decide if a morning walk or pickleball game that can lower the amount of fat your body stores vs an afternoon outing through the woods or an evening softball game that adds longevity is right for you. The most important thing is to get moving. Do it indoors if you prefer, or step outdoors and start enjoying the beautiful spaces your Park District has. We know you'll feel better, mentally, and physically.
Exercise and depression.
Because May is Mental Health Awareness Month, we would be remiss if we did not address one of the
most common, and debilitating, mental health issues. Past studies have shown that exercise can have a direct impact on improving depression. Recent larger studies that included walking, running, and strength training—either individually or in a class—concluded that at least 50% of people with depression who exercised in any way significantly improved their symptoms. If you suffer from depression, first talk to your doctor about whether an exercise routine will be good for you. And if it will, we hope you'll start enjoying walking, jogging, exercising or just being active outdoors where nature will provide a background of trees, flowers, birds, and lots of fresh air—all of which we know will help.
Having fun is good for your brain.
As Parks & Recreation professionals, we're experts at creating and providing things that help make lives better. We have so much to offer for kids, teens, adults and families to enjoy—programs, events, facilities, parks and green spaces—and everything can help you have more fun! Check out what's available now and what's coming up on our website and mobile app. Have a question? Our knowledgeable and super-friendly staff is always ready to talk to you. Take a little time to focus on your mental health this month. We're sure you'll find the rest of the year—and the rest of your life—will be better. We all look forward to seeing you soon!
1 Reprinted with permission from the Oct. 31, 2019 article "How Parks and Recreation Can Support Mental Health Initiatives" by Barbara Heller and Molly Young