Date & Time
Sun, Feb 19
3:00 pm - 5:00 pm
Location
Ravinia Festival
301 Ravinia Park Road
Highland Park, Illinois 60035
Google Maps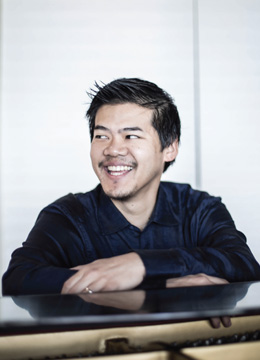 The Strings' Annual Benefit concert in the intimate and acoustically perfect Bennett-Gordon Hall at Ravinia is the highlight of the season.
For tickets, call 847.831.3622.
February 19
@
3:00 pm
–
5:00 pm
Canadian pianist WINSTON CHOI makes his debut with the Strings in the performance of the iconic "Rhapsody in Blue". Choi is Associate Professor of Piano and the Head of the Piano Program at Roosevelt University's Chicago College of Performing Arts. After obtaining his Bachelor and Masters of Music from Indiana University and his DMA from Northwestern, his professional career was launched when he was named Laureate of the 2003 Honens Piano Competition and winner of France's Concours International de Piano in 2002. An inquisitive performer, his fresh approach to standard repertory, and masterful understanding, performance and commitment to works by living composers make him one of today's most dynamic young concert artists.
As a dedicated champion of contemporary music, Choi has premiered and commissioned over 100 works by young composers as well as established masters. In demand as a concerto soloist, Choi has appeared with over a dozen symphony orchestras and is a prolific recording artist. Also on the program is the" Concerto Grosso" for strings and piano by Ernest Bloch, Selections from "West Side Story" by Leonard Bernstein and the "Lincoln Portrait" by Aaron Copland using a narrator to recite material from speeches and letters of Lincoln – a perfect way to celebrate Presidents' Day.
Bonus for Major Contributors
Show how important Strings concerts are to you and the community by making a contribution of $100 or more. The Strings is exempt from federal income tax under Internal Revenue Code Section 501 (c) (3). You will receive a minimum of two tickets, preferred seating, listing in the Program Book, and free tickets to a Donor Appreciation Chamber Music Concert at 3pm on Sunday, April 16, at the Highland Park Community House.