Prepare for a quacking good time as the highly anticipated inaugural Duck Derby takes center stage at Hidden Creek AquaPark on Sunday, June 18 at 3pm (previously scheduled on Sunday, June 11). This exciting event promises to be an unforgettable day of family-friendly fun, all in the name of a great cause.
The Duck Derby marks the beginning of a new tradition in our community. All proceeds benefit the Parks Foundation of Highland Park, helping hundreds of families in need of financial assistance access to all recreation programs, including summer camps, swimming lessons, sports, and fitness programs. With the support of generous community members, we aim to make a significant impact and set the stage for future successful races.
Quoted in support of this thrilling event, some of the most iconic ducks from the world of entertainment have expressed their enthusiasm: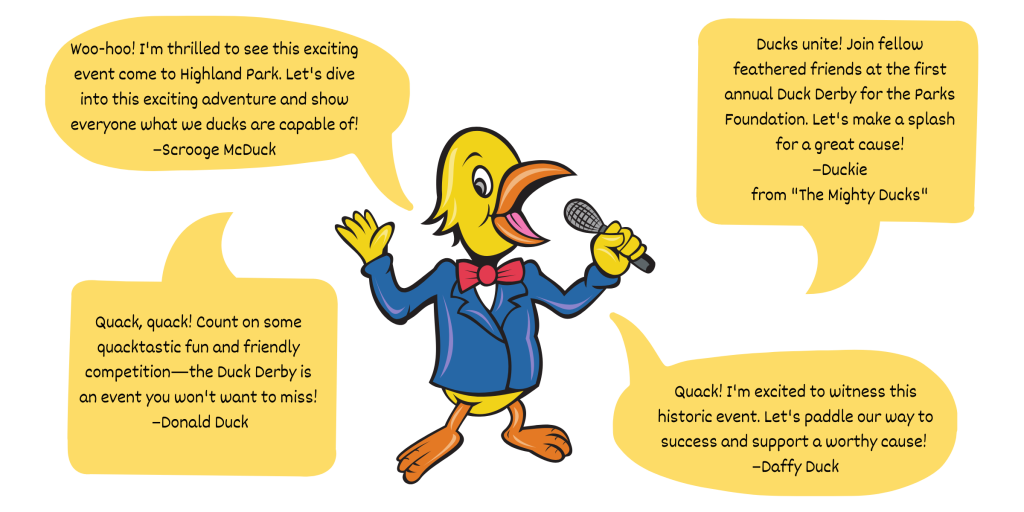 The race will take place on Hidden Creek AquaPark's speed slide. As the excitement builds for the upcoming event, organizers have left no stone unturned to ensure a flawless racing experience for all participants. With rigorous track testing and adherence to safety regulations, the event promises not only an exhilarating spectacle but also a secure environment for both the ducks and attendees.
"We wanted to make sure that our inaugural race exceeds expectations in every way," said Deputy Director of Facilities and Operations Mitch Carr. "Testing the track was a crucial step in our preparation. We've taken great care to create a track that offers a thrilling racing experience while prioritizing the safety and welfare of our participants."
With a track that has been rigorously tested and safety measures in place, the Duck Derby is all set to provide a memorable and thrilling racing experience. Participants can adopt one duck for $5, or a "Quack Pack" of 6 ducks for $25. Ducks are available for purchase in advance online or at the pool on Derby Day. With incredible prizes for the top finisher, including a Hidden Creek family pass for 2024, a free round of mini golf for 4 at River's Edge Mini Golf, and the coveted Golden Duck trophy, the excitement and anticipation are soaring.
Don't miss out on the quacktastic event of the year! Save the date, gather your friends and family, and head to Hidden Creek AquaPark on Sunday, June 18 for a day filled with excitement, entertainment, and the sight of rubber ducks racing towards victory.