Highland Park lost one of the great ones on July 12. Charles "Chuck" Schramm passed away at the age of 89, having touched the lives of thousands of kids, teens, and parents over his long and outstanding career as a basketball player, sports coach, and mentor. Those of us at the Park District who knew Coach Schramm and watched him teach in our sports programs learned a lot about how to help kids love the games they were playing. "He had a big voice, and you always knew where he was!" said Brian Dumas, now the Park District's Operations Manager, who worked alongside Coach for more than 14 years in the sports department. Brian remembers a time at one of the Parent-Tot T-Ball programs when there were more than 200 participants. In the middle of the staff and the volunteers helping to organize the chaos at Sunset Woods Park, "there was Coach Schramm singing Take Me Out To The Ball Game in his booming voice!"
At 6′ 6″, Coach was an imposing figure, especially at the Park District. "he was larger than life," said Dumas, "always smiling, always kind, and always all about making sure the kids had a great time." He made such a positive impression on young players in Highland Park and the surrounding communities that 20 years later they would bring their own kids back and introduce them to Coach Schramm. "That's the sign of someone who has really made an impact, and it was fun to see the amazement in a little kid's eyes when they met him and said he's so tall!"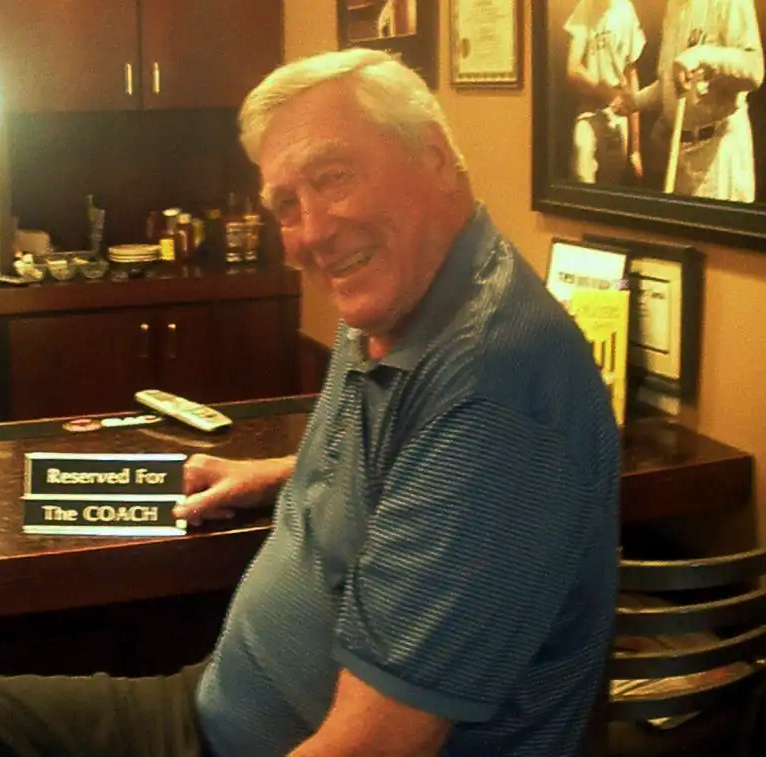 Many of you know Coach Schramm's story because he was born and raised in Highland Park. As a teen, he caddied at the Bob-O-Link, Lake Bluff, and Deerpath Golf Courses—where he got to meet some of the greats, including Sam Snead, Ben Hogan, and Byron Nelson. He emerged as a star on the Highland Park High School Basketball team in his senior varsity year—after sitting on the bench for much of his first three years—sinking a couple of baskets late in a game to help the Giants secure an important win over Oak Park. That, along with his 13ppg average, would later garner several college scholarship offers. After an MVP year as a freshman at NIU (where his rebounding record stood for 32 years), and then sitting out a season, Schramm played for the Western Illinois Leathernecks under Hall of Fame coach Leroy "Stix" Morley, where he was a four-year IIAC all-league player and a two-time NAIA all-American.
Schramm was drafted as a forward by the Boston Celtics in 1957—one of the great teams with Bill Russell and Bob Cousy that played under future Hall of Fame coach Red Auerbach. After being sidelined by an injury, he went on to play and coach with the Wichita Vickers in the National Industrial Basketball League. A number of offers for college positions followed that stint, but Chuck decided to come back to the Highland Park area he loved and coach at his alma mater, Highland Park HS. For the next 11 years, in the late '60s and through the '70s, as the high school's Jr. Varsity Basketball coach he led his teams to 100 victories.
During that time, Coach began his amazing tenure at the Park District where he founded the Travel Basketball League and the Prep (Intramural) Leagues for basketball and baseball players ages 14–18, which are all still going strong more than 50 years later. The Prep League was the first of its kind, created for players who perhaps had been cut from their school teams or who were not able to commit to an every day after-school varsity practice but still wanted to play competitive ball a few days a week on organized teams. "These leagues were very important to the players, and so was Coach Schramm," said Eric Golmon, one of the Park District's current Athletic Supervisors who worked with Coach for 20 years. "Coach put Highland Park players in a position to succeed, and so many of them have successful careers now because of him." Coach was proud to have mentored at least 13 players—men and women in a variety of sports—who went on to play Division 1 college ball.
In a 2006 cover story for the local magazine six00threefive (now Highland Park Today)1, Chuck said "I loved my job coaching in HP, and working for the Park District the most! It allowed me to work with families I knew and to shape the programs any way I could." All of us at the Park District and all of the families connected to his programs love what he gave to the community. "Coach brought his tremendous enthusiasm and passion to everything he did at the District," said Golmon. The Park District baseball program ran from May through the end of summer at Lincoln School. Basketball ran from October through to spring. "He would coach 8 basketball games in a row on several days a week when he was in his 60s and 70s, doing whatever needed to be done to make sure that kids learned the right way to play," Golmon remembers. That's something you hear from everyone who knew Coach Schramm. He loved the game.
Paul Harris, Athletic Director at Highland Park High School, has a unique perspective on the impact Coach Schramm had on players. Harris was just 10 years old when he started playing in the youth basketball and baseball leagues that Coach was running at the Park District, and when he went to high school he had Coach as a physical education teacher. "There are multiple generations who learned how to play the game from Coach Schramm," said Harris, "He was a role model and a mentor who taught us all how to 'play it right,' and how to win with class and dignity."
After college, Harris came back to teach at Highland Park High School and was hired as the Head Golf Coach for the Varsity team in 1995. Coach Schramm had retired from teaching by then, but was still the Assistant Golf Coach, for the Jr. Varsity team. "It was great, as a young Head Coach, to have someone with all of his experience in multiple sports as an assistant. That's when our relationship really became a friendship, and we spent 22 years coaching golf together at the high school."
Over the course of his impressive teaching career, Coach helped lots of young women golfers, particularly in Lake Bluff, and the players on the high school JV team understand that golf is not an instant gratification sport. There are lots of struggles. You're going to fail more than you succeed. Coach was able to show young players how to move through that and how to continue to love the game. "That led to a lot of players sticking with the game—whatever the sport was—that he was coaching them in," said Harris.
Here are a few words of wisdom that those of you who were lucky enough to hear them from Coach Schramm will know, and which we take to heart as we strive to continue the work at the Park District.
"How fast you run, how high you jump, or how far you can hit a ball—that's what you do. It's not who you are."
"Just keep loving the game and it will love you back."
"You can be disappointed, but don't be discouraged."
"It's OK to fail. You'll be better because of it."
The sports programs at the Park District, as well as the current generation of coaches in Highland Park, certainly would not be what they are today without Coach Schramm's years of guidance. We're better for having known him. He will always be a big part of why we love the game.
1 The six00threefive cover story was written by Coach Schramm's friend Wes Wenk, and is used here with permission.
Cover Photo Source: Six00threefive Spring 2006