At the July 27 Board Meeting, the Park Board approved the Sunset Woods Park Playground Renovation construction contracts. Construction is set to begin mid-August for the grand opening in Spring 2022 (weather dependent).
Check out the renderings of the new playground below.  To learn more about the project, click here.
2-5 Age Group Play Area — Nature Theme
The Nature-Themed playground honors the natural beauty at Sunset Woods Park by resembling a forest floor to facilitate imaginative play. Kids can run through a fallen acorn, balance on the vines, climb log steppers, engage with the worm talk tubes, or interact with the sand at the sand play table. The primary play structure includes opportunities for climbing, sliding, crawling, and sensory play. The playful rubber surface design also offers an opportunity for imaginative play with lily pods and a river pattern. The variety of swings between the two play areas welcome all ages and abilities including belt swings, tot swing, ADA, and an expression swing for an adult to swing together with a child.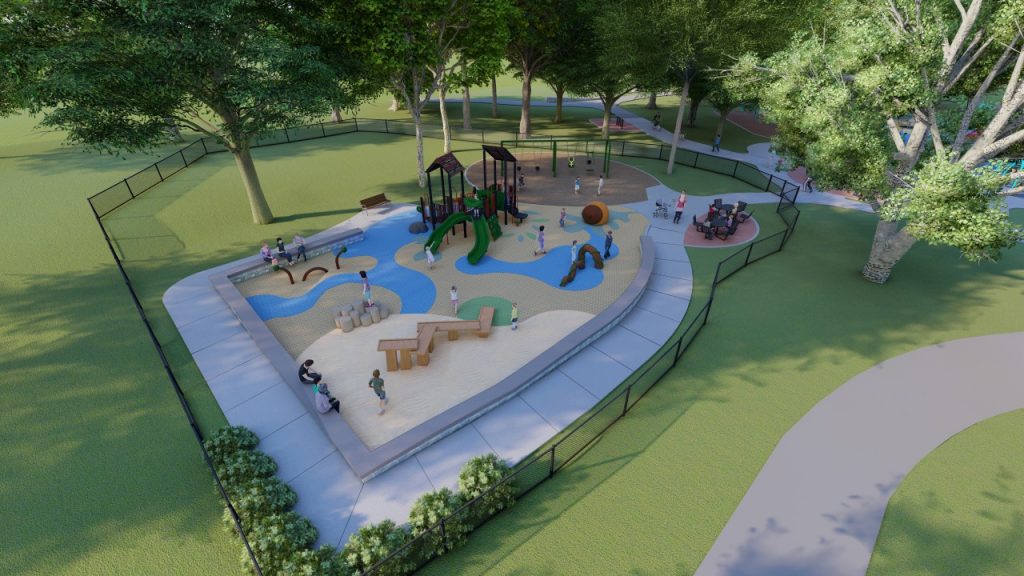 5-12 Age Group Play Area — Rocketship/Space Theme
The new Rocket Ship playground will feature a primary rocket with a connecting launch tower. Kids will have a variety of ways to climb up the tower, making each visit unique and challenging including a rope climber, a crawl tube connecting one platform to the next, a net climber, and finally a ladder to the nose cone of the rocket where kids can view out from the 25' high platform. Easy access stairs and climbers are also available through the tower. Kids can pretend they are part of a real launch at mission control and the command center, spin on the loading zone spinner, and move between the launch tower and rocket on the accessible bridge link. Surrounding the rocket ship, kids can play on the sun spinner, group swing, run up and slide down the rubberized embankment amongst the planets or climb on the "galaxy" net climber. All these pieces are mounted on rubberized surfaces with a design that transports you to outer space while making the entire playground accessible.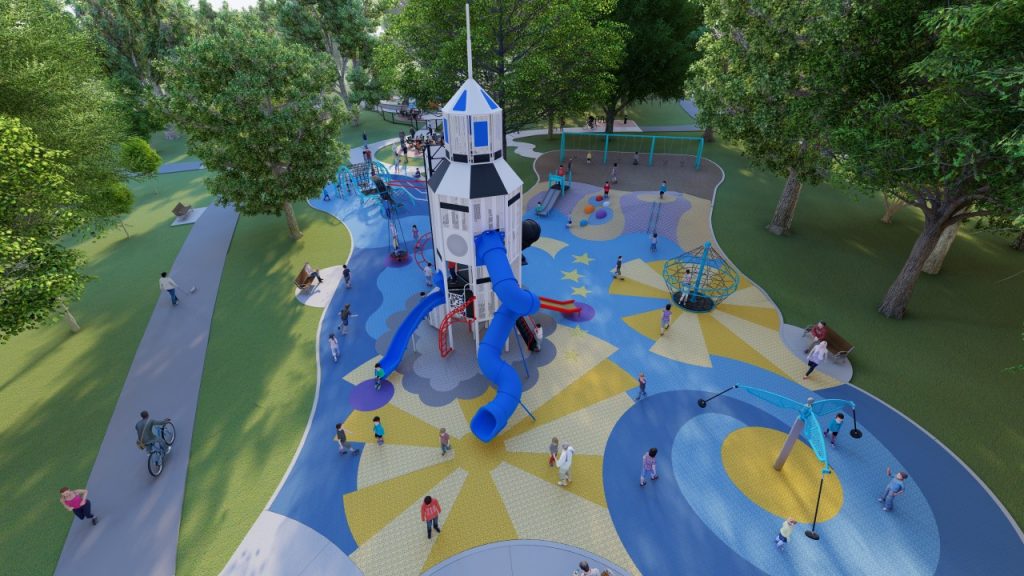 Playground Seating Plaza
The site amenities including a central seating plaza, benches, seating wall, walkway, and picnic tables make this an engaging and playful destination for families.
Looking for a meaningful way to commemorate a special event or memorialize a loved one and give back to your community? Purchase a $200 engraved brick with a message of your choice to help the Parks Foundation of Highland Park raise funds to build a playground seating plaza between the new Rocket Ship and Nature-Themed playgrounds!
Your 4"x 8" brick engraved message includes a maximum of three lines and up to 13 characters per line, including spaces and punctuation.