Intense storms over the weekend battered community beaches along the north shore. High winds and powerful waves combined with near record-high lake levels exacerbated the already significant beach and shoreline erosion sustained in the past several months. According to the United States Army Corps of Engineers, Lake Michigan is 16 inches above 2019 lake levels, 37 inches above the monthly average, and two inches above the record high for January.
Preemptive measures by the Park District of Highland Park minimized the damage and protected our resident's safety from the dangerous weekend storm. Most of the damage at the Park District's four lakefront properties was limited to debris washing ashore in the powerful waves.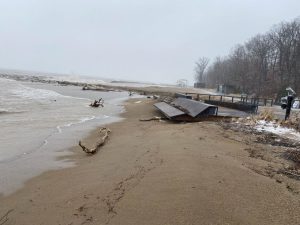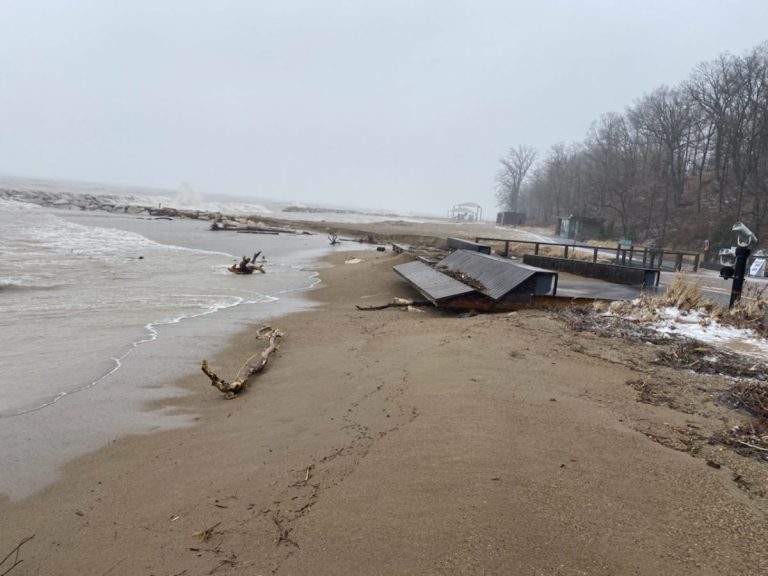 At 4 pm on Friday, January 10, the Park District closed pedestrian and vehicular access to Rosewood Beach, Millard Beach, and Moraine Park based on predictions of 40- to 50-mile per hour wind gusts and extensive flooding along the lakefront. The City of Highland Park also closed Park Avenue Beach access.
Earlier last week, Park District crews moved the Park Avenue Boating Facility wooden hut further inland in anticipation of the winter storm. The hut sits typically on a small deck at the boat launch shoreline. The deck was washed away in the storm.
At Rosewood Beach, sand brought in this past October to protect structures along the Nature and Swimming Coves served its purpose. Rosewood's parking lot, boardwalk, and other structures were not affected by the storm.
This week, our Parks staff is focusing on the cleanup following the storm, including clearing debris, including tree limbs, logs, and timbers in the north parking lot at Park Avenue Boating Facility. A fallen tree at the north end of Millard Beach was removed. Park District staff will continue removing debris at Rosewood Beach. Washed up logs, timbers, deck wood, and patio chair cushions have been removed thus far. Once the cleanup at Rosewood is completed and if waves stay calm, our Parks staff will return to Park Ave. to clean debris on the south beach near the Yacht Club.